Choosing a hearing device requires much thought and a professional's advice. There are many types and models of hearing amplifiers in the market, and picking the best one might be difficult.
Before making your purchase, check your budget, severity of hearing loss, features and specifications, size, lifestyle, and cosmetic properties of the hearing device.
Lucky for you, Onebridge has got you covered. All Onebridge hearing devices are premium, so you are guaranteed that the speech transmission and sound quality are top-notch. In addition, there are many striking models to choose from, each with its outstanding features.
Here are the best hearing amplifiers for all hearing loss severities and people of all ages.
Onebridge GM25 Rechargeable Hearing Amplifier with Noise Canceling ($99.99)
The Onebridge GM25 is light, portable, and very easy to use. In addition, it has a straightforward operation system and versatile adjustment modes.
This hearing amplifier has one button to control the modes and the volume. You can select among four different modes and volumes depending on the environment. This model is designed to adapt to its surroundings.
The hearing amplifiers are also ultra-lightweight, portable, and comfortable – making them ideal for seniors. Consequently, they have a nano-coated shell that is water and sweat-proof. So, you can keep them on without worrying about moisture damage.
Onebridge includes cleaning gear that helps you keep your amplifiers in excellent condition for an extended period. The hearing amplifiers are also compact, with material domes of different sizes for all ears. The pair fits perfectly in your ear canal without causing any discomfort.
You need to charge the hearing amplifiers for four hours, giving you fifty-five hours' worth of battery life. The rechargeable built-in Lithium-ion battery is powerful and long-lasting. The amplifiers also come with fast charging cable.
The Onebridge GM25 hearing amplifiers will stay charged and cozy throughout the day.
ITC Digital and Rechargeable Hearing Aids for Seniors ($89.99)
The ITC hearing aids for seniors offer the best sound quality in various environments. The hearing aids can augment speech in loud backgrounds, ensuring you don't miss out on any communication. This model gives you a swift listening experience with zero speech transmission loss.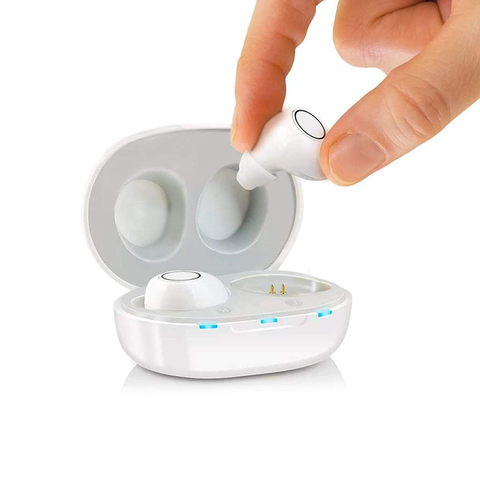 These Onebridge hearing aids are lustrous and chic and fit into the ear canal effortlessly. They are invisible, and no one can tell you are wearing them. Their design makes them suitable for everyday use.
You can adjust the volume using the buttons on the hearing aids. The sound range is low to medium, making them ideal if you have slight or moderate hearing loss. Also, you can select between the six-sound volume levels to improve transmission.
The hearing aids are also efficient and easy to operate. To turn them on, you must long-press the button for three seconds. The controller also controls the volume when you short-press it.
This model has a charging case lasting up to ten hours per use. It also has cleaning tools to enhance the hearing aid's lifespan. You can pick from any of the three sizes, each available in pairs.
Onebridge Basic Mini Hearing Amplifier ($59.99)
The Onebridge mini hearing amplifiers are small (0.64 inches) and weigh only two grams. Each set has two batteries, and one can last you for up to sixteen hours.
The package includes three different-sized hearing earplugs so you can choose the most comfortable one according to the size of your ear canal. To use the equipment, you place the earplug on the amplifier.
You can quickly turn it off or on using the button at the back of the amplifier. This button also adjusts the volume for silent and noisy surroundings. However, you must ensure that you don't use the hearing amplifier in loud backgrounds for long. This helps prevent damage to your hearing.
This hearing device is FDA approved and is of medical grade.
OneBridge Hearing Amplifiers
If you are looking for hearing devices that offer comfort and versatility, are easy to use, clean and maintain, and give clear communication, look no further! Onebridge is the store for you!
All our amplified hearing devices have premium quality and affordable prices. There are many models available for kids and adults. These devices also help improve some hearing conditions.
When purchasing hearing aid amplifiers from our store, choose the one that best suits your current hearing needs. If you require other hearing accessories or need further assistance, do not hesitate to contact us. You do not have to worry about satisfactory customer service.