The best rechargeable hearing aids create a personal sound experience for each listener. Amplifiers, digital and analog technology, and other effective features meet or exceed the needs of our modern lifestyle.
The four hearing aids on this review are nothing short of this. 
Onebridge PRO RIC Rechargeable Hearing Aids
The Onebridge PRO is a pair of rechargeable hearing aid that can be worn directly in the ear canal or behind the ear. They're also compatible with a wide range of smartphone apps and devices, making them fully accessible for people who don't want to wear traditional hearing aids.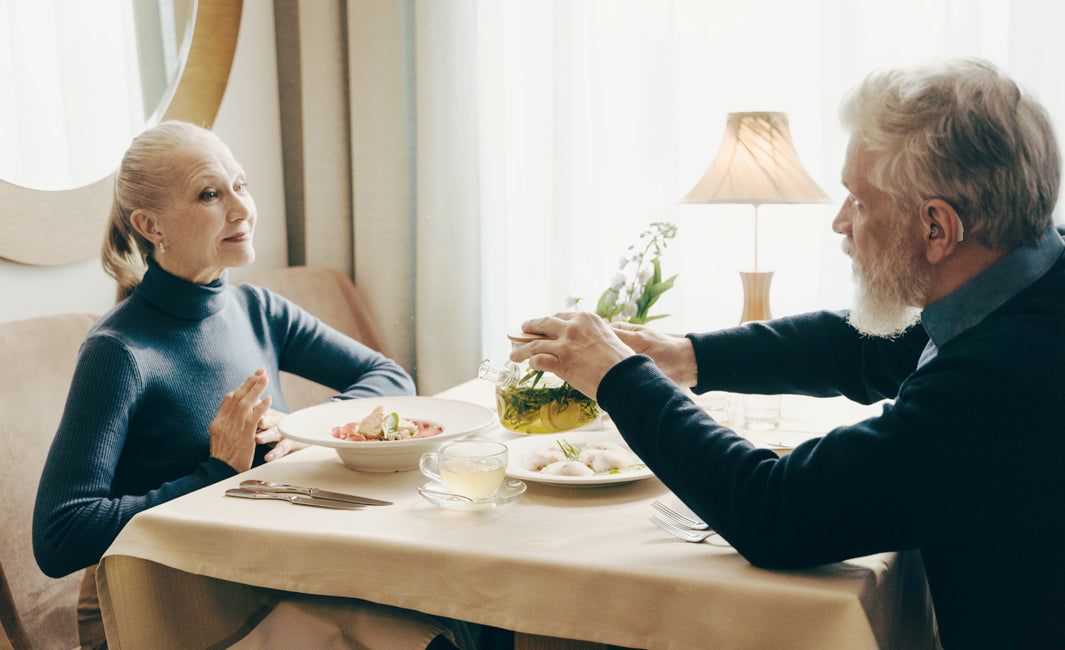 These hearing aids come with a rechargeable battery that lasts up to 20 hours— enough time for most users to get through the day. They also feature two standard batteries, which can be fully charged in just two hours. 
What's more, they have an easy-to-use touch-control button that you can use to adjust the volume, change tracks, and make calls. These rechargeable hearing aids also have a built-in digital amplifier which boosts sound levels so that you can hear everything that is going on around you.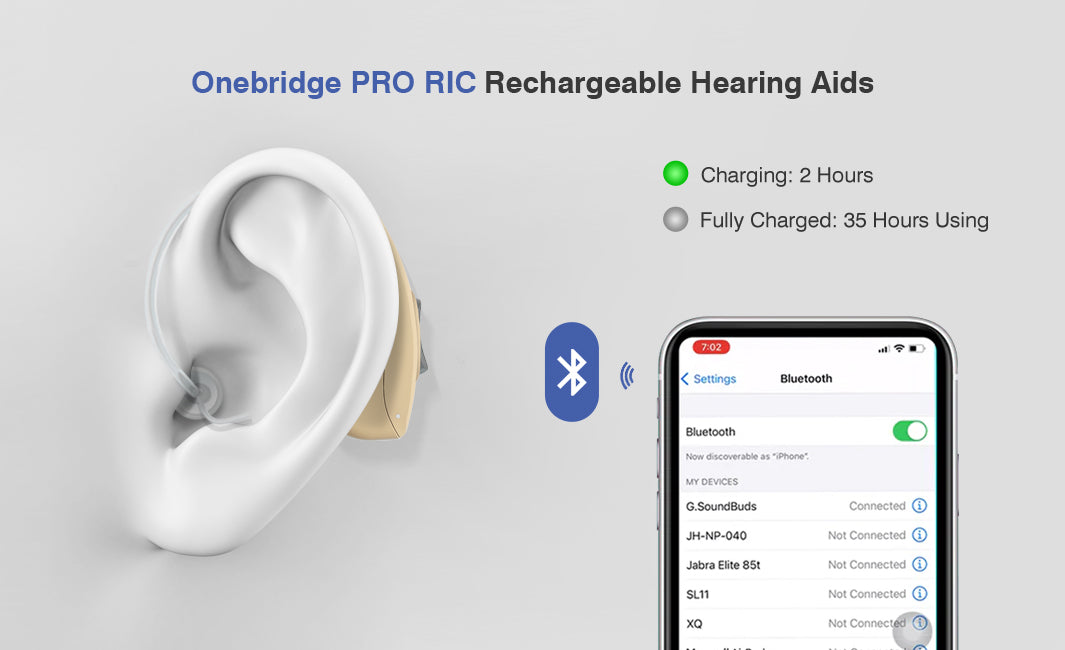 The Onebridge PRO hearing aids have high-quality sound thanks to the dual microphone design and digital signal processing capabilities. They offer clear speech reproduction without distortion or background noise, even at high volume levels, making them ideal for noisy environments like restaurants or parties where background noise may interfere with your conversation.
Moreover, they are comfortable to wear and come with a soft foam cup that holds them in place comfortably when worn. They also come with a charging cable to recharge them without removing them.
ITC Seniors' Hearing Aids 
The Onebridge ITC Hearing Aids are designed to be used by seniors who need to hear well in noisy environments, like those with a lot of background noise. They have been designed so that they can fit into the ear canal. This means that they do not require any adjustments or customization to make them comfortable for you.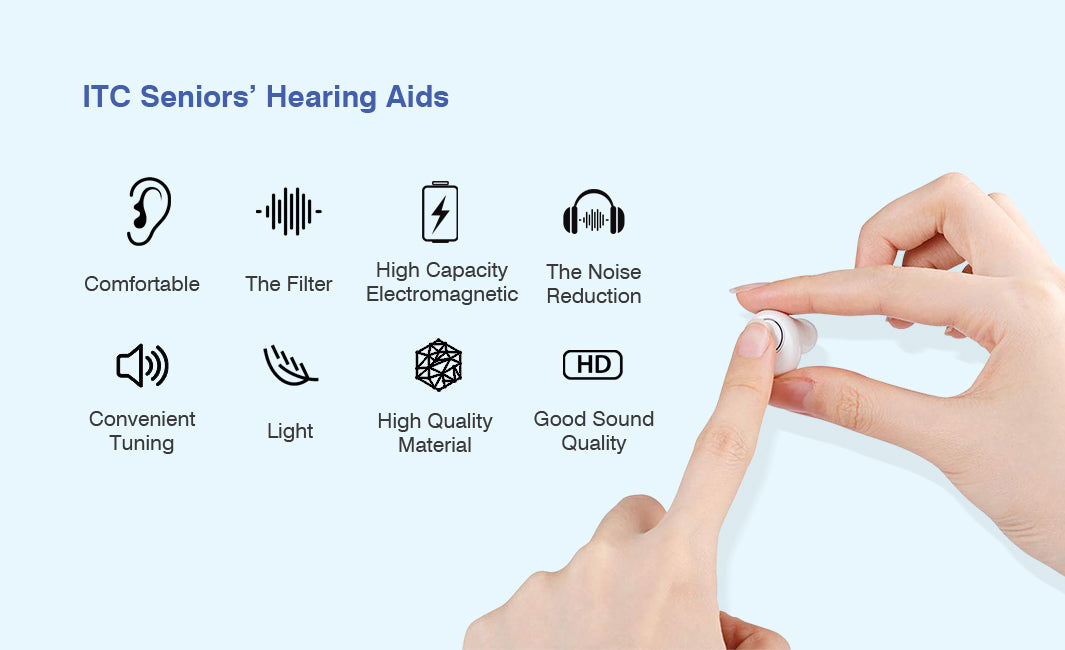 One of the best things about these hearing aids is that they work with any digital hearing aid amplifier, so if you have one that you already use, then you will be able to utilize them with no glitches. You can also take advantage of their ability to switch between different programs easily and quickly.
Furthermore, they come with a lifetime of customer support, so you can rest easy knowing that if anything goes wrong with them, you can contact customer support anytime.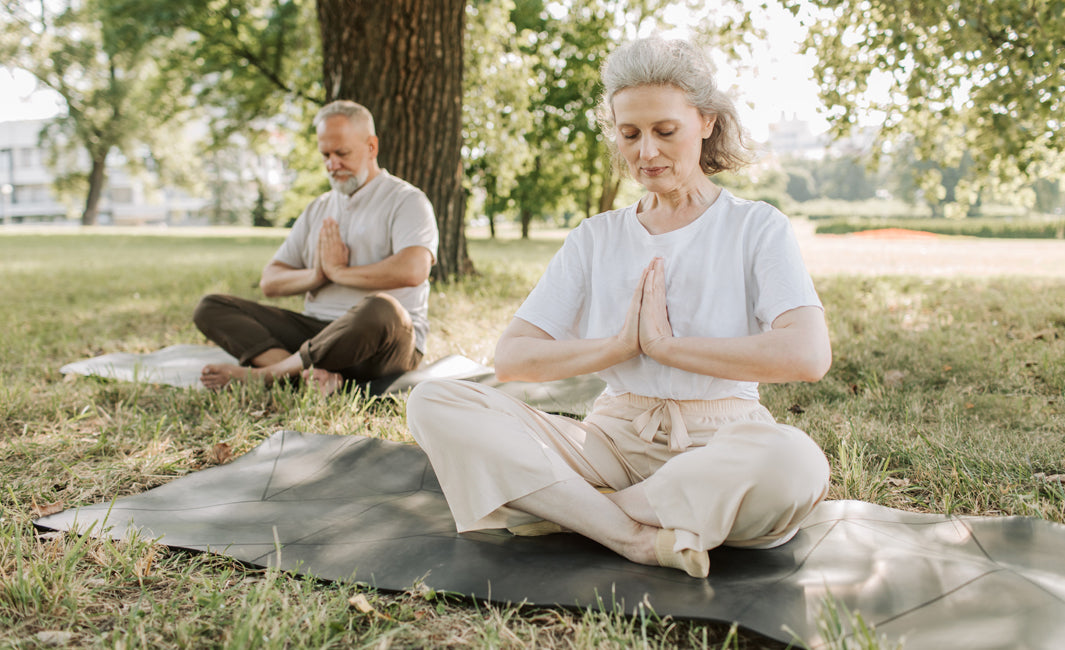 These hearing aids have a rechargeable battery that can last up to 18 hours of use on a single charge. These hearing aids can last all day long without having to be charged again. It also means that you don't have to take them off when you go to bed at night or while you sleep.
The ITC hearing aids have a built-in speaker, so you don't need to buy an external one to listen to your favorite music or podcasts. You also get a Bluetooth transmitter to connect your smartphone or tablet wirelessly.
CN217 UFO Rechargeable Hearing Aids 
The CN217 hearing aids feature an intelligent design that allows them to communicate with your smartphone, allowing you to control all aspects of its operation. You no longer need to rely on a bulky remote control or a complicated setup process to get the best out of them.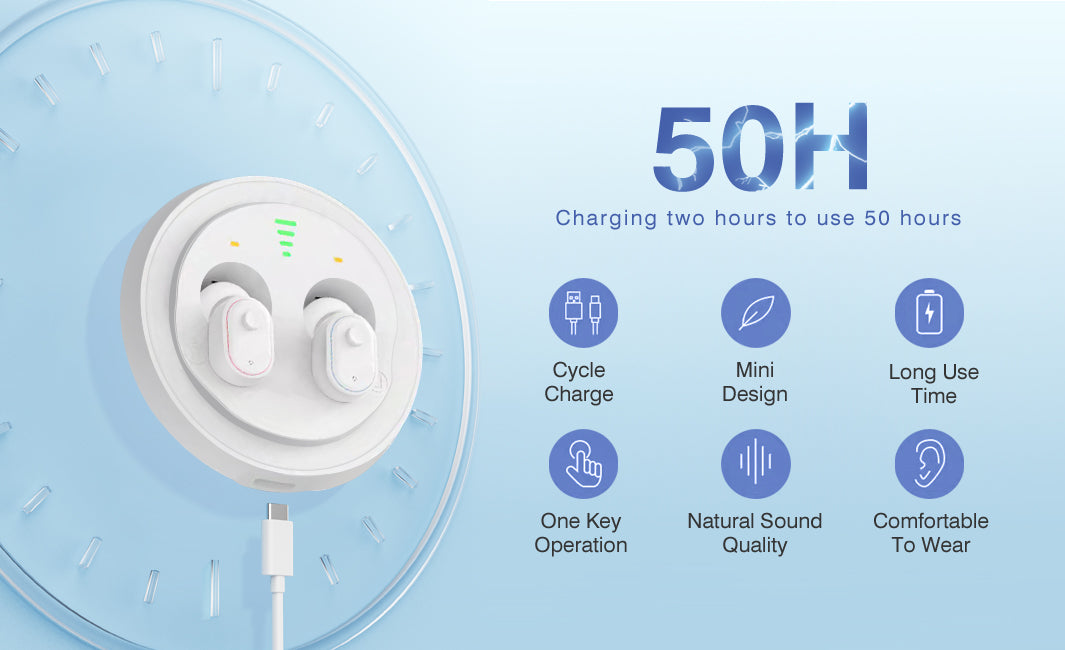 The noise reduction feature allows it to filter out unwanted noise so you can hear conversations better. This makes it ideal for those who experience difficulty hearing in noisy environments like bars and restaurants.
The CN127 hearing aids are rechargeable and have digital noise reduction and a built-in MP3 player. They have a battery life of up to 50 hours and feature two microphones, one for picking up sound and the other for filtering background noise. Again, they fully charge within 2 hours. The unit also includes a headphone jack so you can listen to your music or watch TV without disturbing others in the room.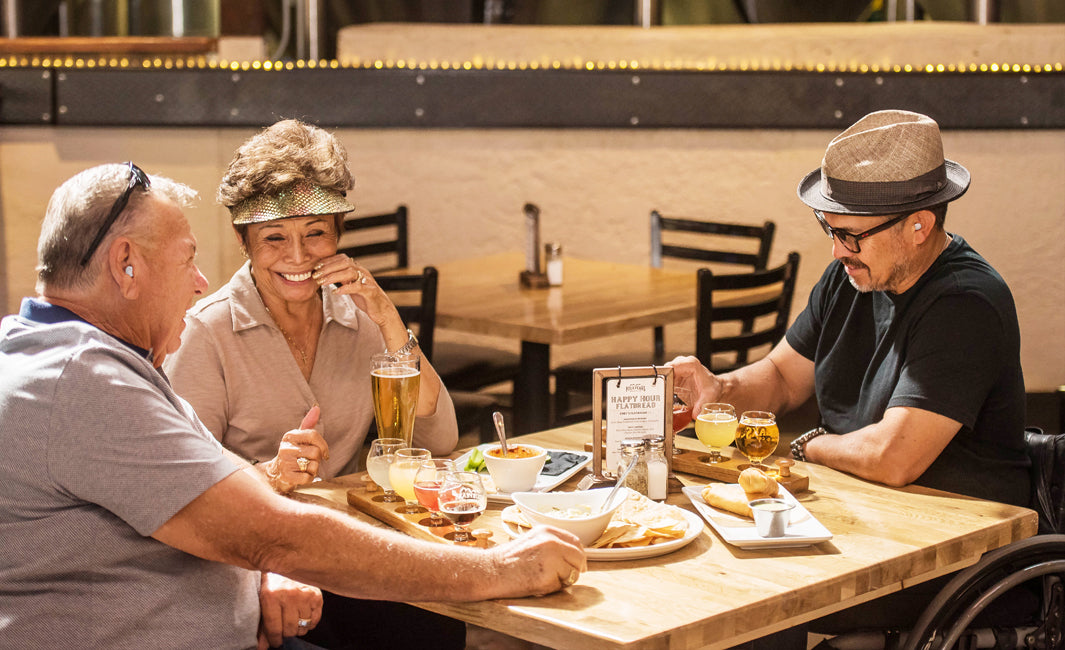 The Onebridge UFO CN127 have digital noise reduction. They use a single AA battery, which is included and has an IPX4 rating, which means it can be immersed in up to 3 feet of water without damage.
Lastly, they are compatible with most phones and tablets, and the app can be used to manage settings and set reminders for different tasks. You can also use the app as a remote control for your phone.
Onebridge J707 Hearing Aid
If you're looking for a rechargeable hearing aid that's easy to use and doesn't cost you an arm and a leg, look no further than the Onebridge J707. This device is designed to be worn comfortably behind the ear, which makes it ideal for people with mild to moderate hearing loss.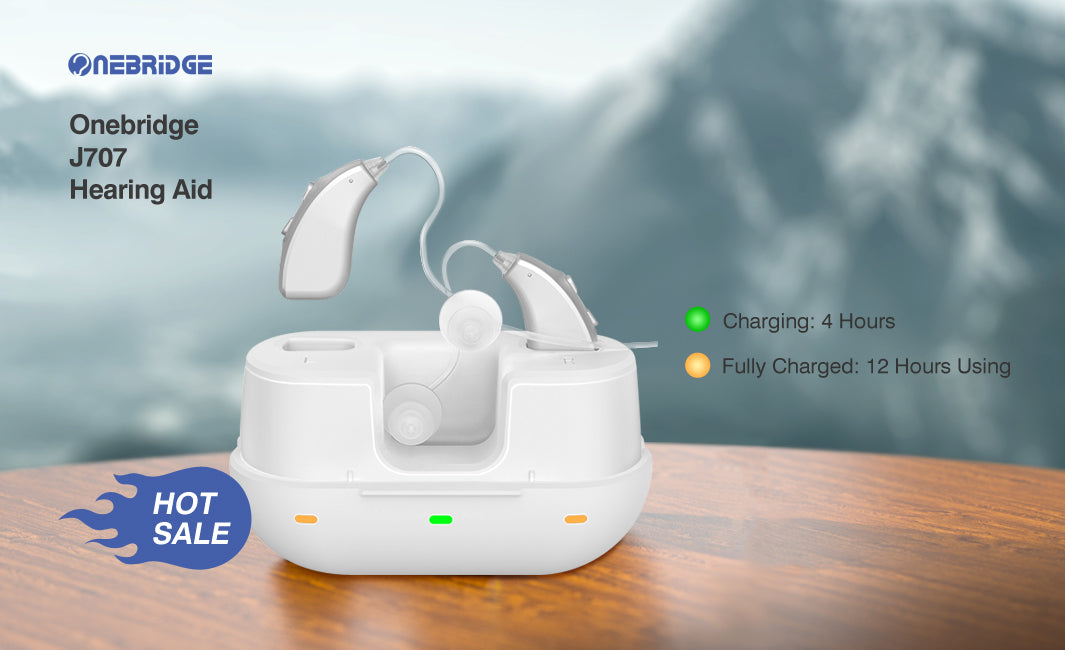 The Onebridge J707 can also be used as a wireless Bluetooth headset, so you can connect to your phone or computer without having to deal with cables. This feature is especially useful if you're trying to stay connected while on the go or at home when your family and friends are around.
The Onebridge J707 has four channels that allow users to customize their listening experience by adjusting each channel individually. For example, if one channel is too loud and another one isn't loud enough, you can easily adjust them both until they're just right.
This listening aid also features intelligent noise canceling technology that automatically adjusts itself based on what's happening around! The battery life on these hearing aids is around 8 to 12 hours, and it takes about 4 hours to fully charge, which is decent for a rechargeable hearing aid.
Conclusion
In the end, the best rechargeable hearing aid is the one that makes you happy to wear all day, every day. Not only will your hearing improve and your tinnitus quiet down, but you'll be able to enjoy the beauty of your world. And the benefits don't really stop there: you'll no longer find yourself missing people and events as they happen around you.