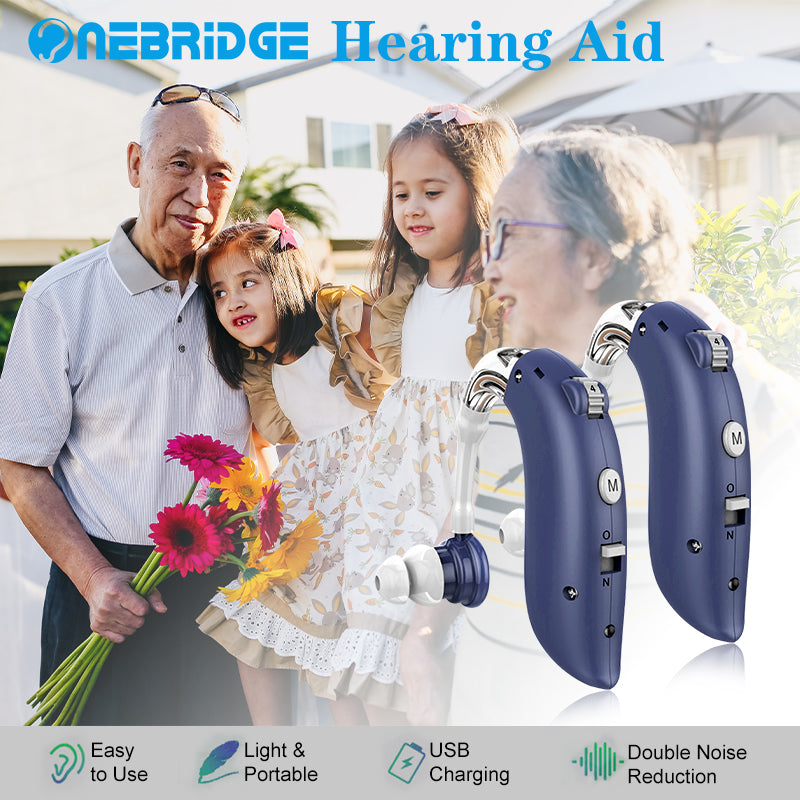 Adjustable Mode and Simple Operation
One button controls 3 modes,adapt to different listening environments. You can choose 4 different frequency modes and 4 types of volume to ensure that you can hear clear sound in different volume environments.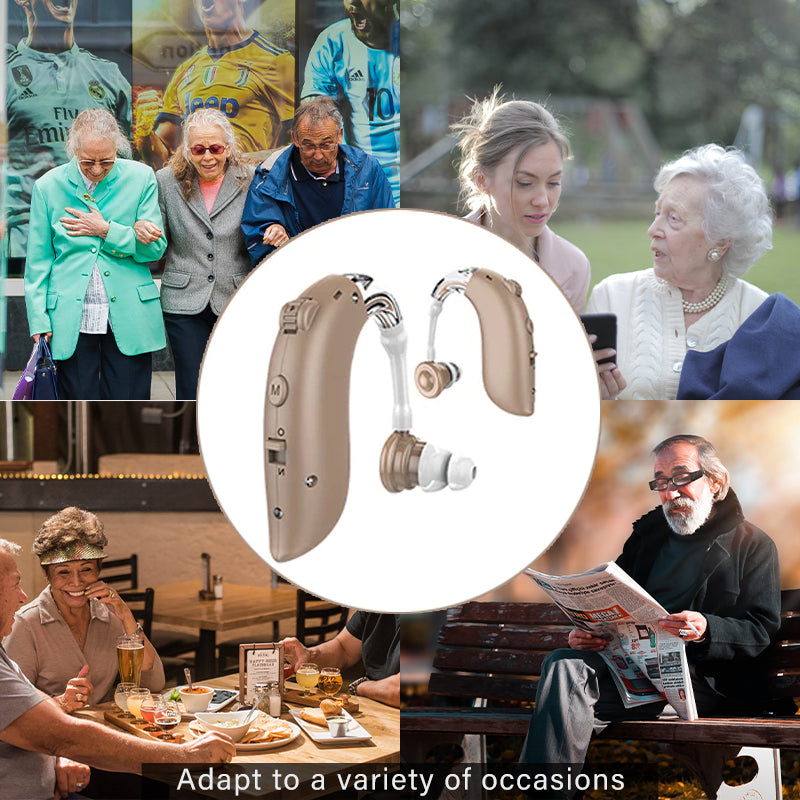 Lightweight and Comfortable
Hearing aids for Seniors are made of the latest materials, the shell is nano-coated, waterproof and sweat-proof; material domes of different sizes are suitable for everyone, and equipped with cleaning tools to extend the service life; very small, very suitable for your ear canal. People FCC, ROHS certification, no radiation and harm to human ears.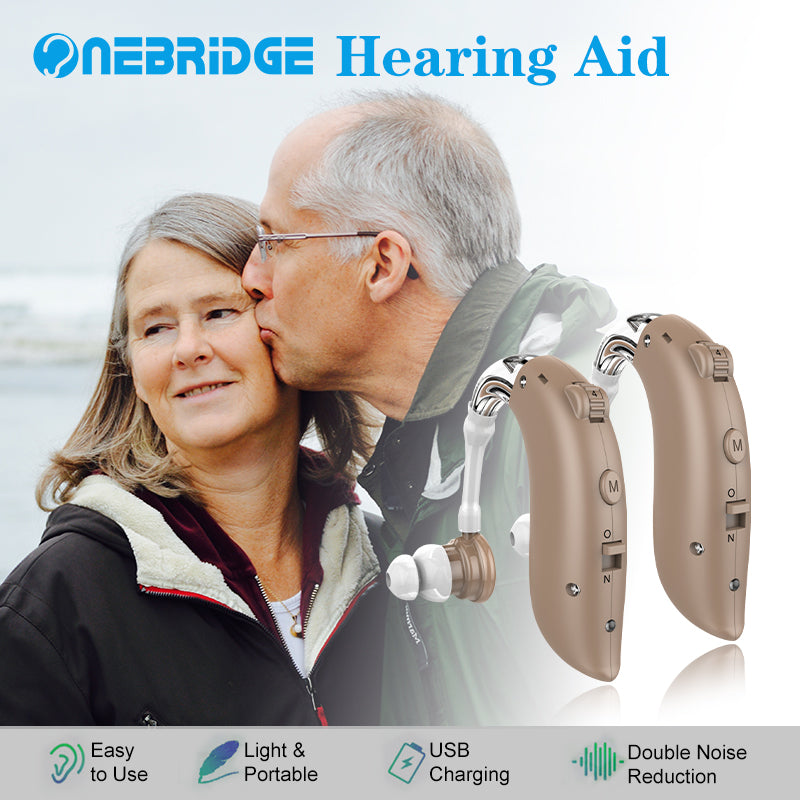 Rechargeable
Charging 4 hours,use more than 55 hours. The BTE Hearing Aid is equipped with a built-In High Capacity Rechargeable Lithium-Ion Battery and Packed with a charging cable for easy charging.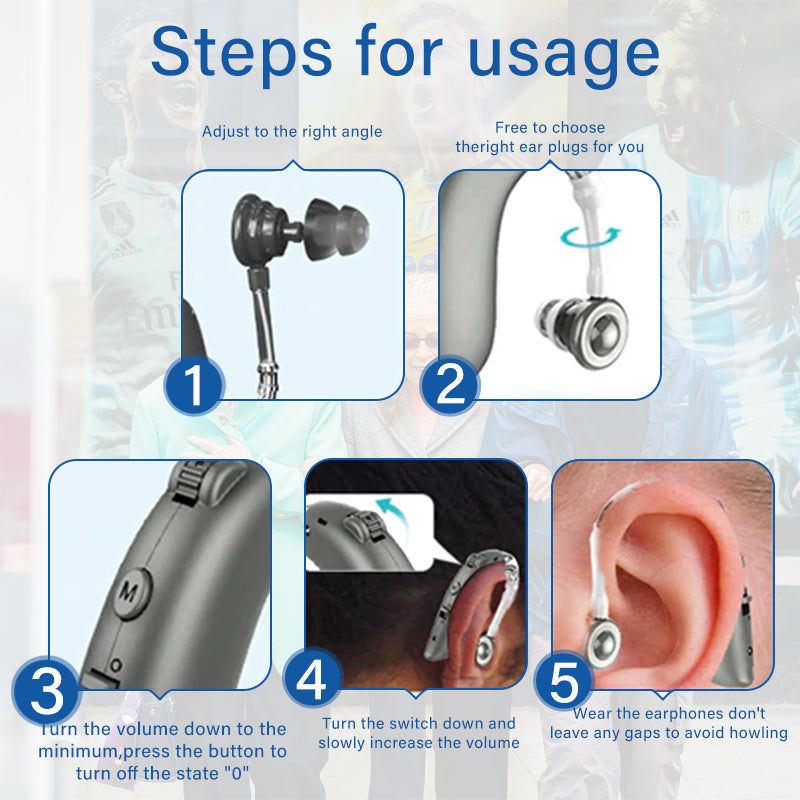 Comfort is Key
Unlike similar products on the market, these sound amplifiers for hearing loss are incredibly lightweight and practical, with ultra-soft medical grade earplugs and ergonomic non-falling design, keeping you comfortable all throughout the day.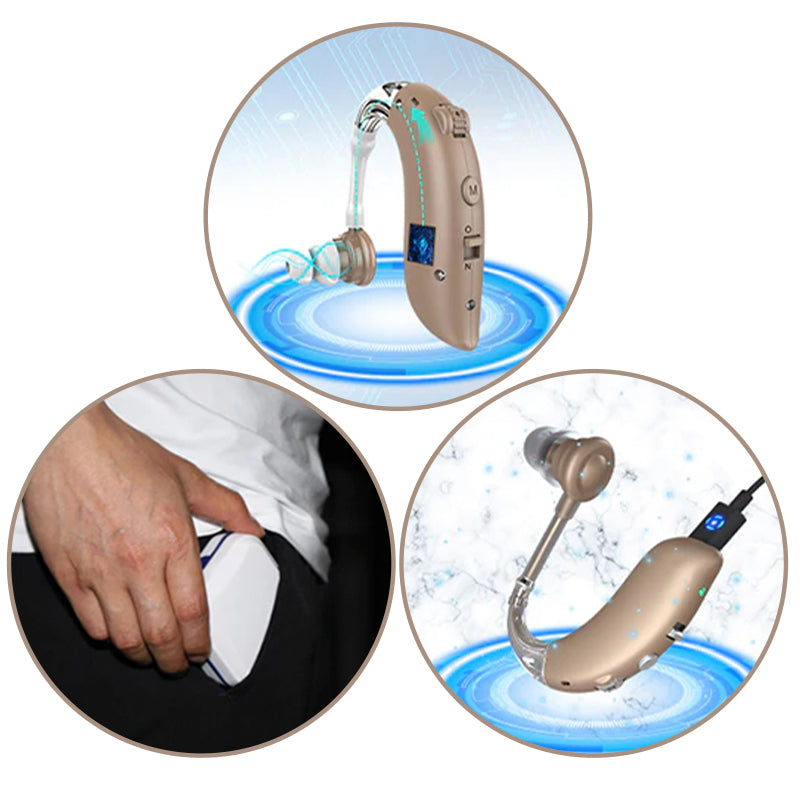 After-sale Service
If you experience an issue with our ear hearing aid, please be free to contact us.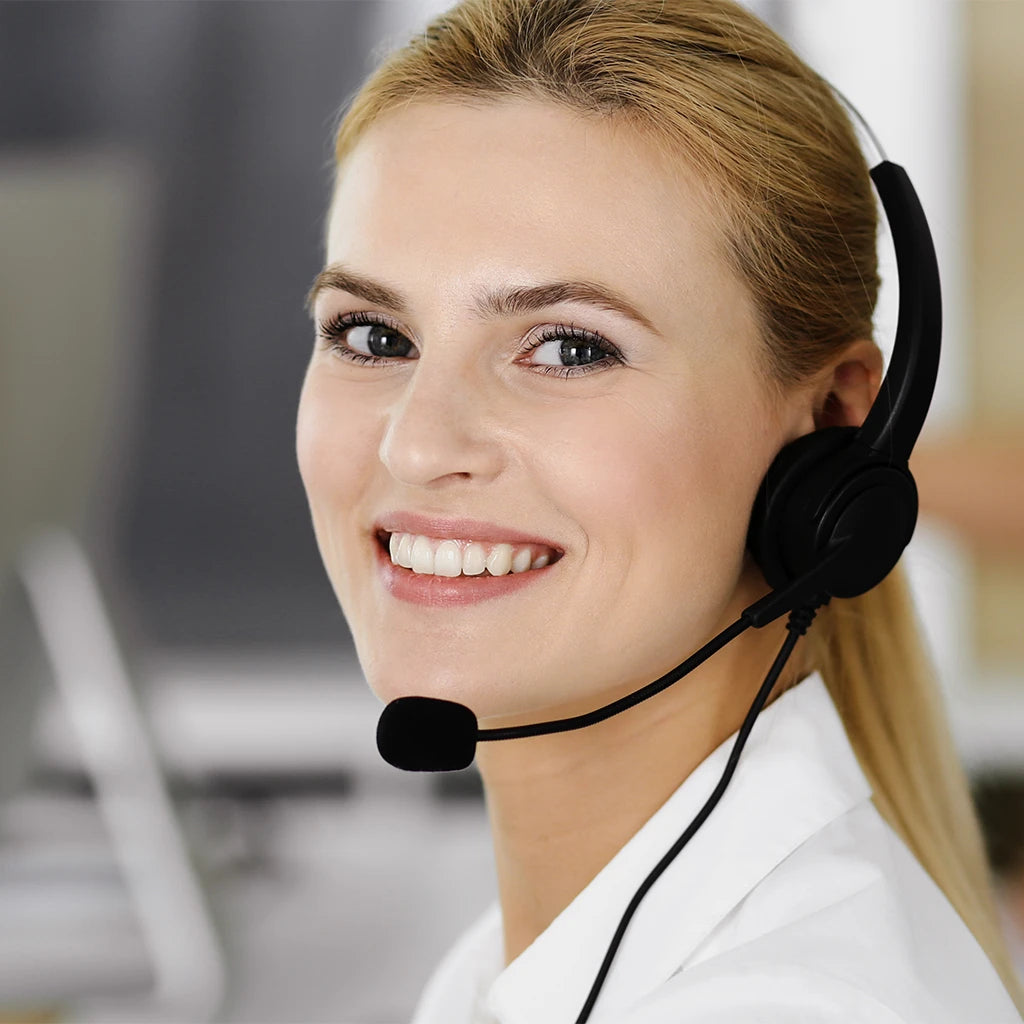 Free Lifetime Support
Whenever you have any questions, our dedicated hearing aid specialists is here to assist you every step of the way. Our motivation is to provide you not only the best affordable hearing aids, but also the best after-sale services.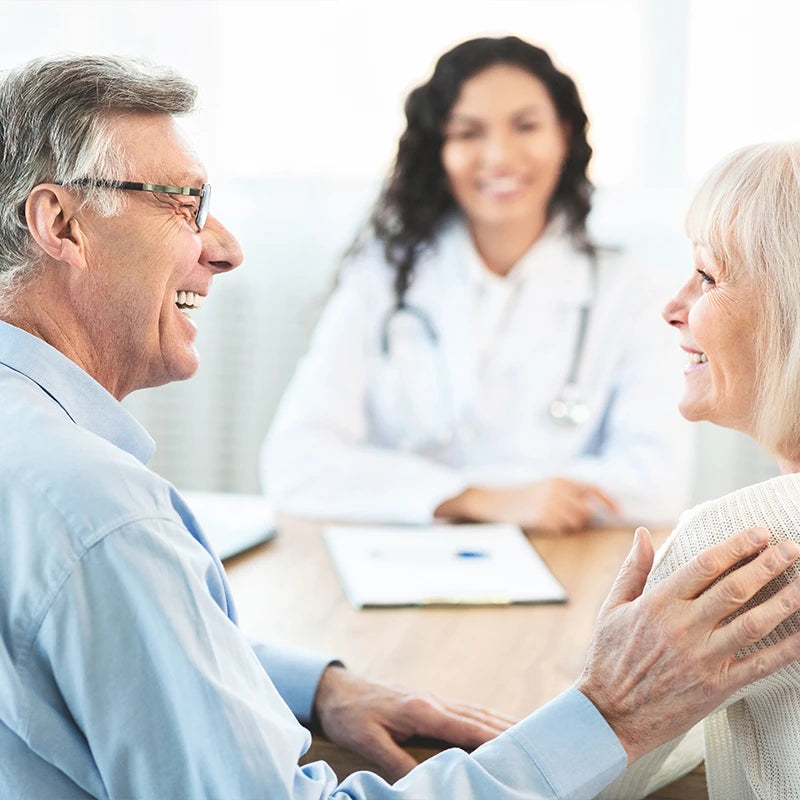 How Does Onebridge Hearing Aids Compare to Traditional Expensive Hearing Aids that Cost Thousands of Dollars?

"We cut off middle man and long appointment", Jason Gu, the founder of Onebridge said, "We are born to change the game, our goal is to craft affordable medical-grade hearing aids". Since 2017, Onebridge team have been dedicated to working direct with hearing aids manufacture and audiologists to design the best hearing aids while eliminating unnecessary costs. As a result, our hearing aids fit most Americans that output cristal clear sound without feedbacks and other noise. We are proud that all of our hearing aids are FDA-registered which means you can trust Onebridge quality.  Over 1 million happy customers has enjoyed our product, what are you waiting for?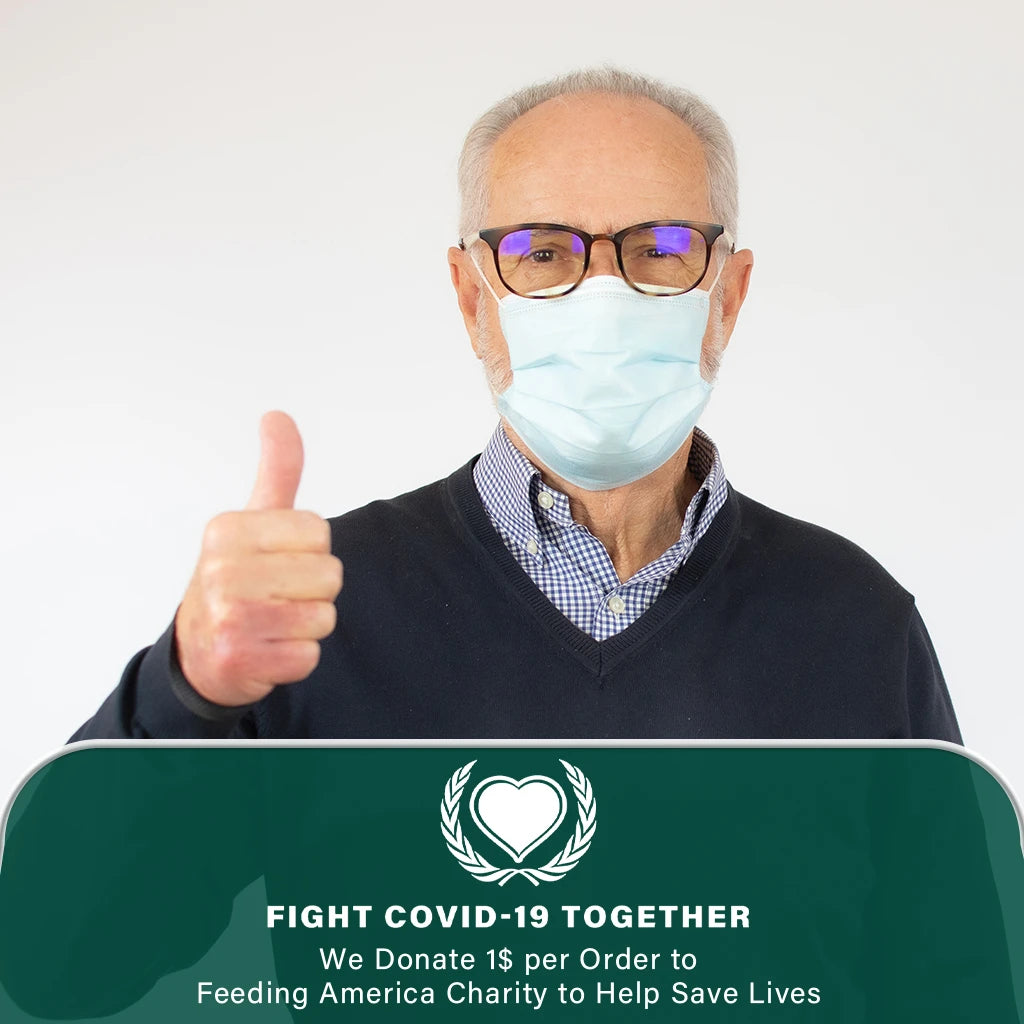 Not really, here is two common suggestion to avoid unexpected feedbacks. 1. Choose the right ear dome that fit your ear canal. 2. Put the hearing aids on before turning them on
We offer cleaning tools in hearing aids package, or you can order the replacement parts on our website
No, our products are not for use by anyone under 18
Hearing amplifier can amplify all kinds of sounds in the surrounding environment, so as to hear greater sounds. They do not require a prescription and are priced on budget. Hearing aids are used to help deaf people hear clearly. It can reduce background noise and enhance high-frequency hearing. The price of hearing aids is slightly higher.
Depending on the delivery address, it usually takes 3-7 days
We use either USPS priority or UPS ground to ship your package. It take 3-5 business days to deliver it on average.
Most of our hearing aids are sold in pairs and not individually. If necessary, you may consider purchasing our single hearing aid products
Hearing aids can amplify sound to help you hear more clear, but cannot treat deafness. If you have special requirements for hearing, you need to go to the hospital for testing and customize hearing aids that suit you.
At present, hearing aids on the market all have whistling. If you wear and use them correctly, the whistling will be greatly reduced. There will be a small echo hole on the hearing aid. Do not block it, and do not place the hearing aid in a small closed space.
If you have any questions or need help about our product, please feel free to contact us,we will try our best to help you. About how to return the product, our customer service will send you the return address and you need to return it.We will refund you after you send us your tracking number and the warehouse has received your package.
As shown in the first picture of the product,the single hearing aids you will seen just one in the picture. Most of our products are available as a pair of hearing aids
Maybe the hearing aid is out of power,you can charge it for a while and try again.If you are not sure how to use it, you can refer to the instruction manual